About Minecraft
Markus Notch Persson, a Swedish game developer, conceived the idea of making a Minecraft video game. The game was first released on May 18, 2009, as a successor to Persson's earlier games such as Caves, Survival of the Fittest, and Swords.
Minecraft is a 3D game that allows users to build constructions out of textured blocks. Players may make whatever they can imagine, from buildings and machines to monsters and personalities, in this game.
Since its release, Minecraft has earned critical acclaim, with praise focused on the game's visuals and gameplay components. Till now, 230 million game copies of this game has sold across all platforms in 2021. Almost 4 million new actives joined users in July 2022 alone. With this growing users base, this game is still ranked in top 10 best-selling video games.
Biomes in the Minecraft video game is an area in the game with unique geographical features having flora, temperature, humidity ratings, water grass, and sky features, etc.
This article will cover many amazing facts about Minecraft dark forest, a biome consisting of high trees, mushrooms, shrubs, and deep shadows that block normal sunlight in the daytime. It covers their types, buildings, trees, vegetation, dangerous mobs, and building blocks to be used in the dark forest.
What is a Minecraft Dark Forest?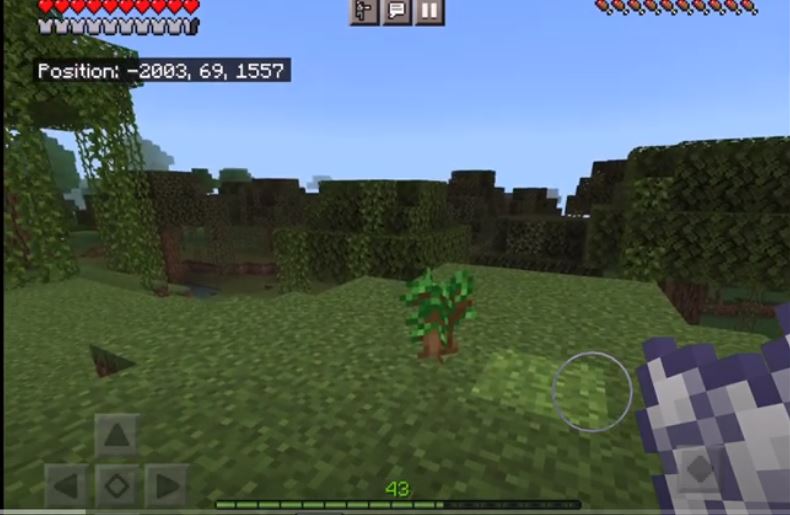 A dark forest (also termed the roofed forest) is a biome in Minecraft's Bedrock Edition. A dense tree canopy covers the majority of sunlight in dark forests. This canopy causes the forest to be very dim and hard to navigate, even at midday.
These biomes are the only site where dark oak trees naturally grow, as well as oak, dark oak, and occasionally birch trees. Its thick, dense leaves provide cover for hostile mobs throughout the day, making it harder to locate them. Due to the enormous quantity of combustible wood and leaves, lava lakes that form in dark woods can spark locally devastating forest fires.
Dark forests are home to giant mushroom blocks. These giant mushrooms are up to five blocks high and grow anywhere with enough light to survive. Giant mushrooms are sometimes generated with mushrooms on top of them.
Some normal sized mushrooms can also be found around the foot of trees, near the forest's border, or distributed throughout the woods. There's also the potential of finding a cobweb-covered spot in the Dark Forest.
These cobwebs are a great place to find some lost items, such as string or rotten flesh. Despite the fact that players are unlikely to run out of wood in dark forests, survival is more difficult than in other forest biomes. Dark forests grow in locations with high humidity levels and are typically surrounded by birch woods.
What's inside Minecraft's Dark Forest biome
There are many different plants, trees, and mobs that are part of this forest in the biome, like;
Buildings
Trees and vegetation
Different Mobs
Blocks
Let's have their brief details;
Buildings
In the Dark Forest biome, you can find Woodland Mansion. The Woodland Mansion is a big home with many stories and numerous rooms. It has three-floored mansions, and there are decorated rooms on each floor. These types of mansions are protected by a mob called illegal. Three kinds of villager mobs are there – vindicator, evoker, and vex. Only the dark forest biome generates the woodland mansion.
Trees and vegetation
Dark forests have plenty of trees, so it's easy to get wood from them. Because of the massive red and brown mushrooms rising through the trees, the Dark Forest biome is difficult to notice. Giant mushrooms are often found in these biomes and have enough space to grow. Apart from dark oak trees, birch and oak trees are also available in these biomes.
Different Mob types
In the Dark Forest biome, some wildlife mobs such as cows, pigs, sheep, and chickens. In addition, over world mobs spur in the forest during the night time, such as creepers, ender men, skeletons, spiders, witches, cobwebs, and zombies. A player must be careful about the types of different mobs in this biome.
Blocks
Grass blocks, for example, may be found in this biome. Aside from that, you'll find the basic Minecraft construction components in this biome, such as stone, coal ore, iron ore, gold ore, diamond ore, Redstone ore, copper ore, and so on.
Different types of Mobs in Dark Forest
Dark forests are home to a wide variety of mobs. Giant Spiders, Giant Bats, and Zombies are some of the most common mobs in the biome. Giant spiders are some of the most dangerous mobs in the game. They will climb up your house and attack you and can be hard to kill. Giant Bats are often found in the biome. They are very slow and don't do much damage but can be difficult to kill because they fly. Zombies are found in the Dark Forest but are less common than other mobs such as spiders. Dark forests also have plenty of passive mobs that aren't dangerous. These include Pigs, Chickens, Sheep, and Cows. They are usually easy to kill and have lots of loot, so they are great for new players.
Passive mobs
Passive mobs can be challenging in the Dark Forest biome because they are usually not active and don't spawn as often. However, they can still be found using a mob detector on your block or stone tools with an activated sense ability. You can also use a golden apple on any passive mobs to make them active if you want to kill them for their meat or bones. Passive mobs do not need food and can survive indefinitely unless killed by a player or tamed animal. These include Pigs, Chickens, Sheep, and Cows. They are usually easy to kill and have lots of loot, so they are great for new players. There are no other passive mobs in this biome besides those three.
Dangerous mobs
Giant Spiders
These spiders are very dangerous mobs in the Dark Forest Biome. They are aggressive and can climb your treehouse and attack you. They have a lot of health and deal a lot of damage per hit.
Zombies
These mobs aren't as dangerous as giant spiders but are found in larger numbers and harder to kill.
Different plants in Minecraft Dark Forest Biome
Dark forests are filled with many different types of plants. A few flowers are found in the biome, but most plants are mushrooms. Giant mushrooms are the most common mushroom found in the biome. They grow on the ground and can grow to be five blocks tall. There are also a few types of bush found in the biome. These are shrubs with flowers on top of them. Dark forests also have a few trees, like oak and spruce trees.
Similar to other woods in Minecraft, this wood serves the same purpose. But it is more uncommon and has a deeper color. In Minecraft's Roofed forest biome, dark oak wood is simple to come by. It's difficult for players to locate this biome in the game. The fugitives establish their little towns in the Dark Forest. They fortify the area to defend themselves against ongoing attacks from zombies and Villagers.
Conclusion
Dark forests are a great biome in Minecraft. They are usually an excellent place to find large amounts of wood. They are home to a wide variety of rare and valuable items. Dark forests are also home to many dangerous mobs, so one must be careful when exploring these. They are primarily found in the real-life temperate climate. They are an evergreen forest, meaning that deciduous trees such as oak and spruce do not grow there. These forests are usually found near mountains or the coast.