In the modern era, the whole world has become a global village. Due to this globalization, fashion styles from one part of the world can easily make their worldwide presence. Similarly, the African city of Nigeria also has a unique yet desirable fashion style called the Nigerian lace style. You can not Ignore Nigerian Lace Styles because they are super attractive and fabulous. Nigerian woman also likes these styles very much and prefer to wear these traditional outfits for special occasions that come into their life.
This article is in front of you to enhance your knowledge about this unique fashion style.
Before just jumping on the Nigerian lace styles, you have to learn some basic introduction about the lace fabrics and what kind of lace fabrics are present and prevalent these days.
Introduction to lace fabric
The traditional Nigerian lace fabric is a smooth fabric with many different kinds of pattern on it. This pattern is sometimes made with the latest and unique embroidery. In the past, these lace fabrics were made with hands. As technology has evolved, these fabrics are now made with the help of the latest machines. Technology takes over making these fabrics, but some handwork is necessary for these machine-created lace fabrics. The handworks that have been done without machines are as follows:
Braiding/ twisting treads
Looping
Making patterns on lace fabric is essential, but the second part is also as important as the pattern. That is the coloring of these fabrics. Especially Nigerian lace fabric comes with a lot of unique colors. Every type of person loves the fantastic colors of Nigerian lace styles.
The type of fabric that is used to make lace fabric are of different kinds. Some of these types are mentioned below:
Silk
Cotton
Rayon
Swiss lace
Cord lace fiber
French lace fiber
Now, knowing what lace fabric is, you move on to the different types of these lace fabrics.
The most recent Nigerian lace fashions and patterns give one an extraordinary and luxurious appearance while yet giving them an African feel. Designers examine and investigate fashion trends to grasp the aesthetics that appeal to women's hearts before producing and placing lace products on the market.
Ladies are following the hottest trends thanks to the most recent lace patterns and styles from Nigeria. Don't be the unnoticed attendee at the future event since you could be the underdressed one.
Classification of Nigerian lace fabric
There are a lot of lace fabric types, and there are a lot of different methods of making lace fabric. These different methods are essential in defining the class of lace fabric. Some popular classes of lace fabric are described below:
Lace fabric with bobbins
The lace fabric is a prevalent type of lace fabric. This type of lace fabric makes complex patterns with many threads. These treads look incredible, and anyone can quickly notice this lace fabric with bobbins.
Lace fabric with beads
Lace fabric with beads is yet another attractive lace fabric class. During the production of "lace fabric with beads," a lot of decorative installed on fabric and other cosmetic work. The decorative pieces that are put on the fabric are as follows:
Stones
Sequins
Other beautiful decorative materials
Corded class of lace fabric
The corded class of lace fabric is an elementary class of lace fabric. In making this type of fabric, the tread of the cloth makes significantly thicker. This type of lace fabric is different from other lace fabric types. This design has not much complexity.
Sheer lace
Sheer lace is a beautiful type of lace fabric, as this type of fabric has a lot of holes in it. It cannot be worn as a dress without the help of other thick cloth. This wide dress is worn under the sheer lace fabric.
Lace with Embroidery work on it
Lace with embroidery work has a lot of delicacy in it. The front side of this lace cloth is a thin net made with whole fabric, and there is beautiful embroidery work behind this mesh.
After knowing much about lace fabric and types of lasing fabric, it's time to tell about different beautiful Nigerian lace styles.
Read More: A Detailed Guide About Boosie Fade Haircut With The Factors Of Its Popularity
Top trending Nigerian Lace Styles
Nigerian lace dress with silver lace
Nigerian lace dress with silver lace is specially designed to attend night events like dinner dates, wedding functions, or birthday parties. The top side of this garment is so detailed, which adds extra beauty to these garments. And nobody can be left without admiring and appreciating the beauty of this dress style. Silver color with a mixture of dark skin gives you noticeable attention in any night event.
Nigerian lace dress with black lace
This is another beautiful Nigerian lace style. This type of dress style is usually worn on the occasion of sadness. This dress is made so that the curve shape of Nigerian women's bodies is well defined and easily seen. And women love to look like so. Nigerian lace dress with long black lace, added with long, short, or sleeveless sleeves make this goal possible of looking perfect. This dress style did not use a lot of decorative pieces and accessories. Black lace adds stunning looks whether it uses the dress's topside or bottom side.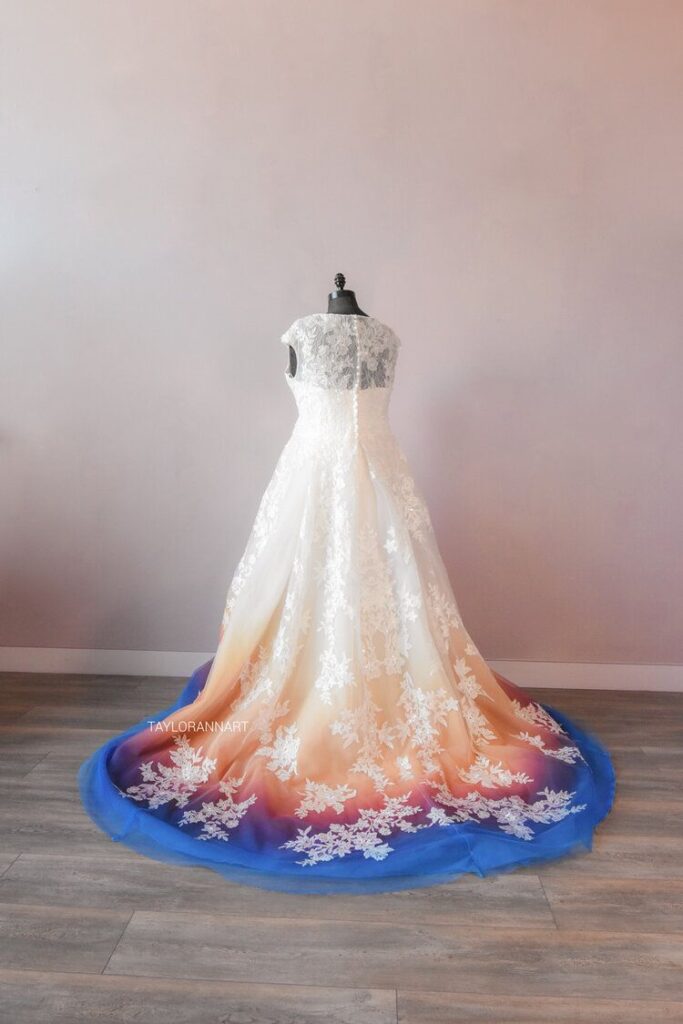 Nigerian beaded lace dress style
Nigerian beaded lace dress style is a unique lace style. In this style, the satin cloth is used with the lace, which gives it a shiny look. If you wear this type of dress with a dark skin tone, then the glossy nature of the dress gives you a unique look. You can wear this style on whichever occasion you want to look amazing.
Knee-length lace gown
If you want to look fabulous at a wedding ceremony as a guest, you should try a knee-length lace gown dress. A knee-length lace gown is a very relaxed style of Nigerian dress. To add extra beauty gems to the dress, you must use the jewelry and other essential accessories with a knee-length lace gown.
Lace dress style with an off-shoulder maxi gown
This lace style is specially made for attending the wedding ceremony. The top of this gown dress has beautiful lace with an off-shoulder maxi, and the bottom of this style is split up above thigh to knee. The waistline in this type of dress style looks perfectly snatched.
Conclusion
Nigerian lace styles are popular fabric styles for making fantastic fashion styles for different occasions in Nigeria and some other nations that are highly regarded. So, try one of the best lace styles that suits your beautiful body.
FAQs
Are there any new Nigerian lace designs?
It is a traditional Nigerian lace blouse that gives you a classic look. It is adorned with countless crystals that shine like stars in every direction.
How does the asoebi lace style look?
Nigerian ladies are known for their love for the Asoebi lace style. Despite its popularity worldwide, lace is not only found in Nigerian fashion. Modern fashion designers have incorporated lace styles into our everyday wardrobes.